The "Abundance Blueprint" and Being Led to What You Want in Life
We had our Get Blisstified Workshop last weekend, and it was so powerful and spirit-led. You know that saying, "I am a spirit having a human experience?" Oh, yeah! That's what we had in that workshop!
Our theme was "abundance." According to Merriam-Webster, abundance is:
abundance noun abun·dance \ ə-ˈbən-dən(t)s \

: an ample quantity : an abundant amount : profusion
: affluence, welath : "a life of abundance"
: a relative degree of plentifulness
This is what we call an intuitive vision board.
Normally, when you create a vision board, you curate photos and images of situations, experiences, and things you are believing you will have. It involves choosing these images based on what you see and appreciate. The objective of this board is to manifest what you desire, much like a bucket list is meant to list down what you would like to "tick off" in life.
With this method of the intuitive vision board — the "Abundance Blueprint" —, it is created without looking at what you will use for the board. We did this during a safe, cleared and energetically-charged space during the live, on-location Get Blisstified workshop. Each participant was guided on the principle of "Everything is supporting you," and through mind-training exercises that supported this principle.
This led to the process of creating the "abundance blueprint." When Kimi and I tested this exercise, we realized how powerful it could be to help our participants activate their inner power: their intuition. Because our intuition doesn't lie, everything that it leads us to in fact is our truth.
I'm sharing how my own "abundance blueprint"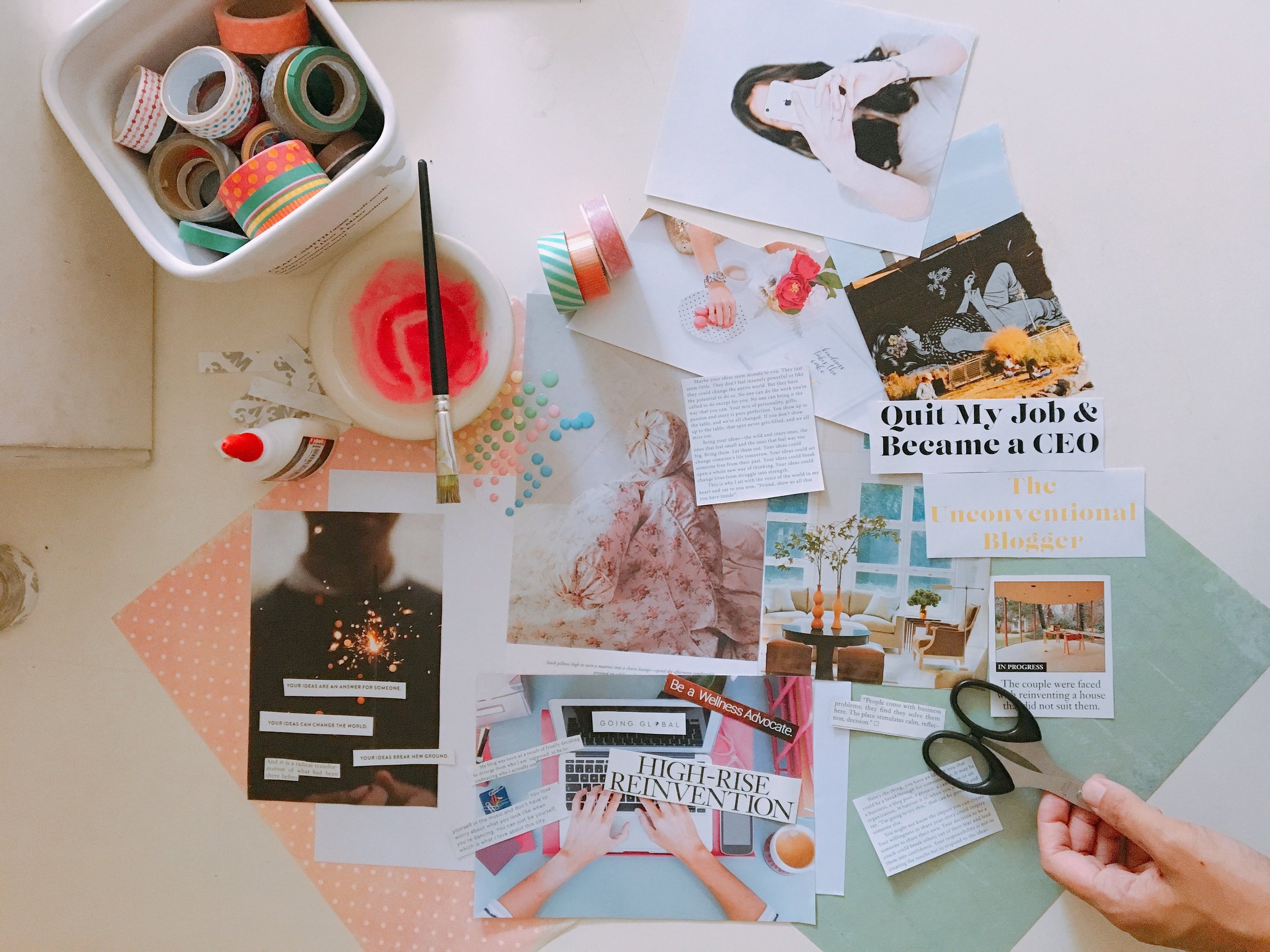 What is an
"abundance blueprint"?
Learn how to activate a mindset of MORE, through being coached and equipped to turn ON your innate "abundance mode."
How to use the "abundance blueprint"
Because everything around us is connected to us on a subtle level, being abundant as a mindset means recognizing that all the elements around us are in our favor. When you LOOK at the abundance blueprint and find connections between the images, words and patterns that you were LED to create (not with the visual ability of your sense of sight), you start to reprogram your mind for new possibilities.
With my own intuitive vision board, my mind and consciousness were confirming certain things that I had been perusing, thinking and reflecting about, such as:
My mindset towards my role as a Coach

My approach to blogging

How to have perspective on my Mission and Purpose in life

The feelings and transformative experiences that people have, when they are my coaching clients

… ALL of these were ON that intuitive vision board that I channeled while in a meditative state.
THIS, therefore, was my "abundance blueprint", the plan and architecture of the Goals and Dreams I have in mind during my manifesting meditations and creative visualizations.
Through guided meditation, group coaching, and daily check-ins, Kimi and I are offering a group of women to understand their own "abundance blueprint" for more productivity, positivity, and possibility in their lives, specifically in determining their life, business, and personal goals for 2019. We are doing this through the Get Blisstified Online Masterclass: Abundance Mode, beginning on September 24, and every Monday for 4 WEEKS.
During this Masterclass, we'll guide you in reprogramming your mindset for abundance, which leads to more effective ways to start and finish your day, more productive ways to conduct your work and professional life, more comforting practices in self-care and celebration of yourself (because only when YOU are happy can you serve love and give love to others).
Is Abundance for you? Apply for a chance to be coached by us. We're ready for you, when you are!
(LINK TO APPLY IS IN THIS BUTTON.)