START BEING BLISSFUL
Get Blisstified Events
You have the choice to create ease & happiness in your daily duties, your career, and in every goal you make in life.
You simply have to CHOOSE the result, then CREATE the Conditions to receive it. Would you like to know how?
The old ways of SETTING GOALS do NOT work anymore.
No amount of "S.M.A.R.T" goal planning has ever really worked. Why?
Because the so-called "smart" goal-setting is good for steady-state situations, for those focusing on hitting numbers, reaching quotas. It's great for companies, for management of a K.P.I, for a bottom-line in sales or in business projections.
But for LIFE GOALS and for Your FULFILMENT, as a person — for anyone who wants to "do what they love for a living" or take some "moonshots" (those big, big, goals and dreams that fill our desires and vision boards)…. Sorry, but SMART goals will fail to deliver.
That's because the old ways of goal-setting don't allow us to create a true emotional connection with our goals. (Even research and studies prove this.)
The truth is —
Goals with out intentions leave most people feeling disappointed, even unhappy, due to unmet expectations.
This explains why people often stop improving themselves or pursuing their passions. Why? Because the setbacks on the SMART goals — such as trying to shed 20 pounds by that wedding you're preparing for, for example; or starting that passion project that keeps getting put off — take over and leave us emotionally drained.
SMART goals fail to fuel our true desire for TRANSFORMATION.
There is a better way to hit the goals you want to reach...
… to launch the passion project you want to launch;
… to move on from a life stage you wish to make peace with and leave in the past;
… to transition into a "new you," whether that means getting a new job, moving to a new life stage, or totally transplanting your life from one place to another;
— and do this in a blissful way that helps you to turn on the ability to be HAPPY in the present, while you take steps to manifesting the future you are creating. In life, happiness isn't measured in how much money you make, but how fulfilled you are in life, and how you manifest the life that gives you meaning, purpose, and abundance every day.
That's where Get Blisstified helps.
And where we — your Get Blissitified Guides — hold the space for you to be mindful, happy in the present, and enjoying a new way of living and being.
…master THE effective way of ACHIEVING your goals?
You are ALLOWED to hit your goals, because your happiness and fulfilment MATTERS in you having a blissful life. We'll teach you our UNIQUE, INTUITIVE TOOLS that you can take from your "Get Blisstified Toolkit", so that you can set & hit your goals, for real.
…learn a new way of being happy, no matter the conditions ?
Are you ready to learn how to tap into the INNER POWERHOUSE inside of you — in your Mind —, so that you can Be the person you need to be to do what you are really called to do, and manifest what you want to have? It's possible, with a New Mindset.
…create the conditions for miracles in your life?
You are ALLOWED to want more, have more. Get Blisstified's ONGOING COACHING (beyond the live workshop) helps you take habit-changing action for what you want for yourself, believe it is already yours, and become the person you need to be so you can HAVE it.
Change your mindset, change the results you get. Live more positively blissful, every day.
Get Blisstified Live - Workshop
Get Blisstified - The Retreat
Get Blisstified - Online 6-Week Masterclass
Get Blisstified is a series of Transformational Coaching Experiences: A live Workshop, a live-in Retreat, and an Online Masterclass, all for Women Intentionally Creating Positively Blissful Lives.
We help women like you build a strong mind, learn mindfulness tools that help you strengthen your mind and inner peace, so that you can master life's challenges, and show up bravely to pursue your Goals.
If you —
have attended workshops and seminars in the past, but are wanting to learn a new way of setting intentions and meeting goals, in a way that empowers you to be happy in the present, no matter the conditions of your life and work;

are happy with your career, but want to pursue a personal goal that you feel very strongly about — a self-improvement path, a business on the side, a blog, an advocacy, etc.

want to transform something about yourself, whether it's to start on something like a health journey, or maybe start a personal project (blog, book, etc)
… then Get Blisstified helps you. Our experiences all give you Life Coaching from two intuitive coaches, while you pursue specific personal goals, all within a safe space and a community of like-minded, goal-directed, intention-driven women. As Coaches, we will journey with you through easy-to-follow weekly modules, that will take you from clearing your mind, space, schedules and blockers, to hitting your goals, while being guided by your intentions.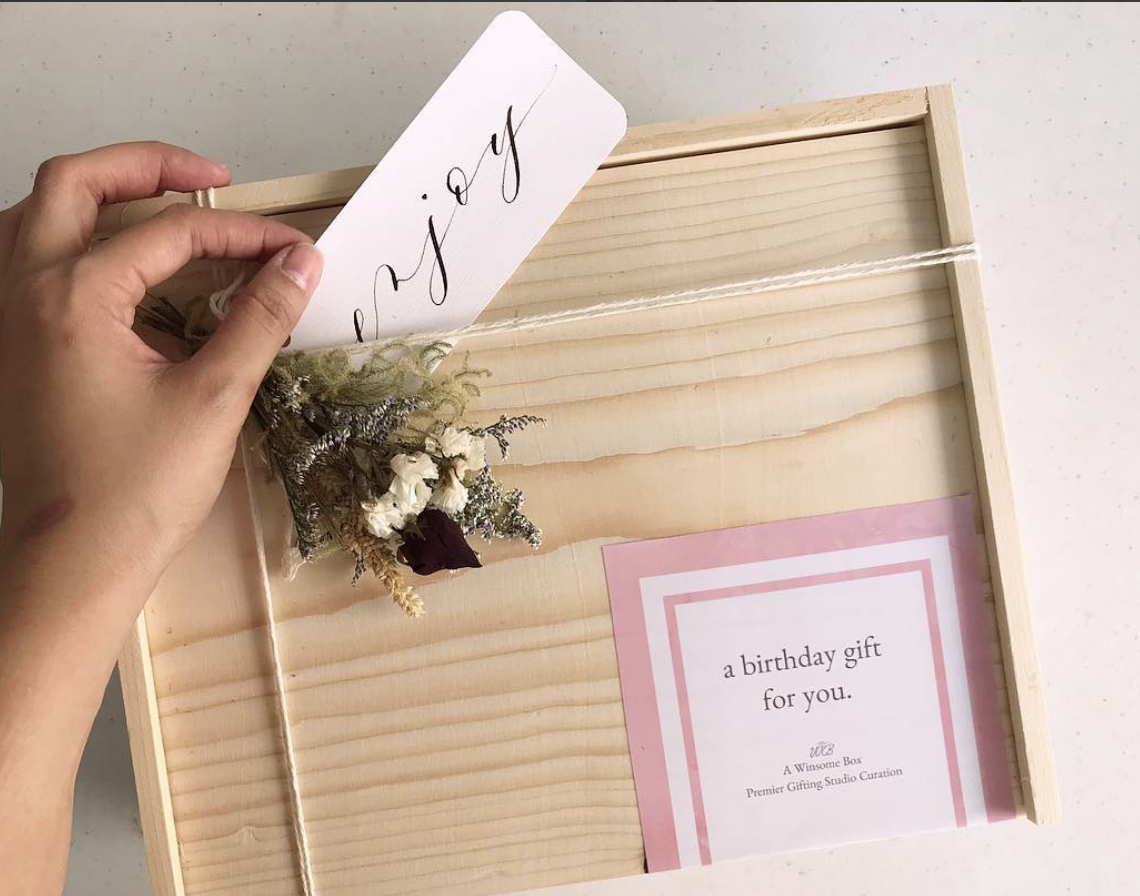 By Carla Gesilva, Winsome Box Gift Curating Studio : More than a year ago before launching Winsome Box, I felt "boxed". I knew motherhood was my ultimate purpose and I was grateful, but giving up a flourishing corporate career and two failed businesses could give you that suffocating feeling. It wasn't until I joined "Get Blisstified" that I started to see clearly where my passions can take me. Within my own box, I saw my own possibilities… I have the power to turn it into something that serves me and others in a way that is still within my own core – in my own unique, heartful way. That's what "getting blisstified" did, and still does.
Get Blisstified Experiences are for you if —
you're a woman who wants a NEW WAY of living your life, starting with your daily practices in mindfulness;

you want to stop following old rules, and let go of past hurts, past experiences, past limits, and step in to new possibilities of Personal Development and Growth;

you want to tune out the distractions of stress and the outer world, so you can create more peaceful conditions for yourself, built on gratitude, detoxification of your past and tolerations, and more;

you desire to learn the power of intuitive tools, (like, but not limited to candles, essential oils, oracle cards and sayings, crystals) to help you transform your environment and create the conditions to manifest your most blissful goals and desires;

you would like to have clarity of the GOALS you will be most happy to pursue, (and what goals to release for the moment or pause with);

you are wanting alignment in your life, as you pursue your Goals, so that you have a Mindset of seeing your actions as experiments, thus avoiding disappointments and unmet expectations;

desire to create abundance around money, your experiences, and be fearless in claiming your desires and dreams, from realizing how we are all connected to the Source of the Universe.
By Bernadette Lim, of Scentful Living: Martine and Kimi would always say, "YOU ARE AT THE RIGHT PLACE AT THE RIGHT TIME WITH THE RIGHT PEOPLE." This photo sums that up perfectly! Carly (of Winsome Box) and I were seat mates at #GetBlisstified last September 2016. I was just starting to make natural soy candles, and Scentful Living was just an idea; I was a bit lost on how to execute my plans. At that time, Carly, like me, was also looking for some direction for @winsomebox, too. Today, @winsomebox is one of @scentful_living's gift box partners! You're in enabling hands with Martine & Kimi!
So, who are your Coaches?
Get Blisstified is a collaboration of two coaches: Martine De Luna, a Personal Brand Coach, and also Transformational Mindset Coach in-training, and Kimi Lu, a Neuro-Linguistic Hypnotherapy Life Coach and Reiki Practitioner. As coaches, we know the power of harnessing our Mindset and Intuition to create experiences we've wanted in our lives… and we knew it was time — back in 2016 — to start helping women in using these life-transforming tools.
Our intuition has led us to design lives that we truly love, doing the work we love that feels natural and good to us, skill-wise and soul-wise. We have used "blisstification" [ i.e. mindsetting + creative visualization + frequency elevation ] to create our respective coaching professions, quit our corporate careers to be business owners and creatrixes of programs and gatherings, collaborate with partners locally and internationally, and hold space for clients all over the world, in almost every continent.
We know that BLISS is real.
And for us, it is time we help you AWAKEN TO YOUR BLISS and YOUR INTUITIVE TOOLS, so that you can create a positively blissful live you love waking up to and living each day.
Ditch the old ways of setting goals and trying to change things.
Step in to BLISSTIFICATION, and make it easy to have what you want. We have led 9 Get Blisstified programs — live workshops and online masterclasses — and served over 100 women in these spaces. Our clients have all expressed that Get Blisstified has been one of their most life-changing workshops and online experiences, ever. The women we have coached in the Get Blisstified workshops and masterclasses have been able to make bold moves in all areas of their work and their personal lives, leading them to launch everything from new businesses, new partnerships and collaborations, make new clients, and even become all-new as they discovered their Authentic Self, through the program.
It's time YOU got blisstified. As we prepare to start a new year in 2019, it's time to step in to new ways of Living Daily, Setting Goals and Reaching New Levels of you.
Choose your Get Blisstified Experience, today.
JANUARY 23, 2019 • Makati, Metro Manila
A 4-hour high-frequency Life Coaching & Transformative Mindset Experience that will jolt you from nothing to having every possibility!

Get Blisstified, Live. This is a half-day, on-location workshop in Makati City, Philippines. You'll be taken through a 4-hour experiential life coaching and creative gathering, where you'll dive in to the tenets of the Blisstified Way: Mindset, visualization and anchoring, forgiveness, gratitude, and abundance practices. Click the button below to apply now for a slot!
Get Blisstified Online Masterclass
February to March 2019
A 6-Week Online Mastery Coaching Experience to Learn the Abundance Habits & Practices of living a Positively Blissful Life
Get Blisstified Masterclass is a 6-Week Coaching Mastery Experience. Here, you'll be taken on a 6-week journey via online coaching calls and connections within a private Facebook Community, where you'll learn how to "switch on" your higher frequencies and a consistently positive mindset. Past clients have raved about how this Masterclass has helped them totally transform their daily habits, their health and well-being, even their income. Apply below to be considered — this is the best coaching deal you'll ever get!
Get Blisstified:
The Retreat
JANUARY 26-27, 2019
A 2-day immersive, out-of-the-city, gathering of like-hearted beings who want to Learn, Create, Take Action to Live & Make bliss in their lives.
Come away to a countryside escape and connect with your Authentic Self, so that you can begin 2019 with a clear Intention and laser-focused Direction towards the Goals you want to meet in all areas of your life: personal, relationships, work, dreams. January is a most meaningful time of year to set intentions, instead of resolutions. Going to a destination that is close to nature helps to eliminate distractions, giving you a clear path of moving forward into the New Year of moments that you are creating, starting with yourself. Learn how to work with your feelings, with sacred tools, with hormonal & cyclical phases, and intentional scheduling, so that you accomplish more with intention, without force or stress. Get clear on your personal brand, building this on your Core Values and purpose statement for the New Year.
Want to be a VIP?
Get massive savings when you opt for a VIP option. Get all 3 Experiences (Live, Retreat and Masterclass) for a special price, or purchase a bundle in the Early Bird Rate period for a special price. Message us below to inquire about how!